Your career in health starts here
Who is Torrens University?
SSNT became part of Torrens University Australia Health in 2014. With 60 years of academic excellence, our courses prepare graduates with practical experience at real clinics guided by industry practitioners. You will train at our operational clinic, designed to be on par with commercial enterprises while providing an optimal learning environment.
Workplace ready
Get practical experience at real, commercial-standard clinics.
Flexible learning
Study in the place you like most, whether it's on campus or at home. Whatever works best.
Industry experts
Expert academics and practitioners will develop your skills for industry practice.
Who is Think Education?
SSNT's Bachelor of Health Science (Clinical Myotherapy) course is proudly delivered by Think Education.

Think Education also offer the Diploma of Nursing.
These courses are delivered by Torrens University Australia
These courses are delivered by Think Education
Bachelor of Health Science (Clinical Myotherapy)
Course overview
Myotherapy is a system of healthcare that involves the evidenced-based assessment, treatment, and rehabilitation of musculoskeletal pain and associated conditions. Through high-quality health education, Clinical Myotherapists combine fundamental health science knowledge with manual physical therapy skills, pain management, and exercise therapy to help people to recover from pain and injury, improving their physical function and quality of life. It's methods of physical and orthopaedic assessment share similarities with other physical health disciplines such as Physiotherapy.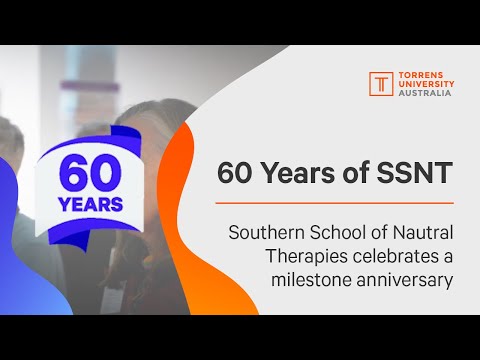 Southern School of Natural Therapies Celebrates 60 Years
We had the pleasure of hosting some of our SSNT Alumni, staff and industry guests who have all contributed to the decades of experience our students receive.
Marcus Blackmore
| Director of Blackmore Foundation
The traditional role of a University is to acquire, enhance and preserve knowledge and, in turn, to impart that knowledge on those willing to learn. The health courses offered by Torrens University are a reflection of that role but are executed with a sense of 'purpose'. It is that 'purpose' that makes careers in this space so rewarding for both students and our graduates. There can be nothing more purposeful in life than to offer an individual a healthier life.